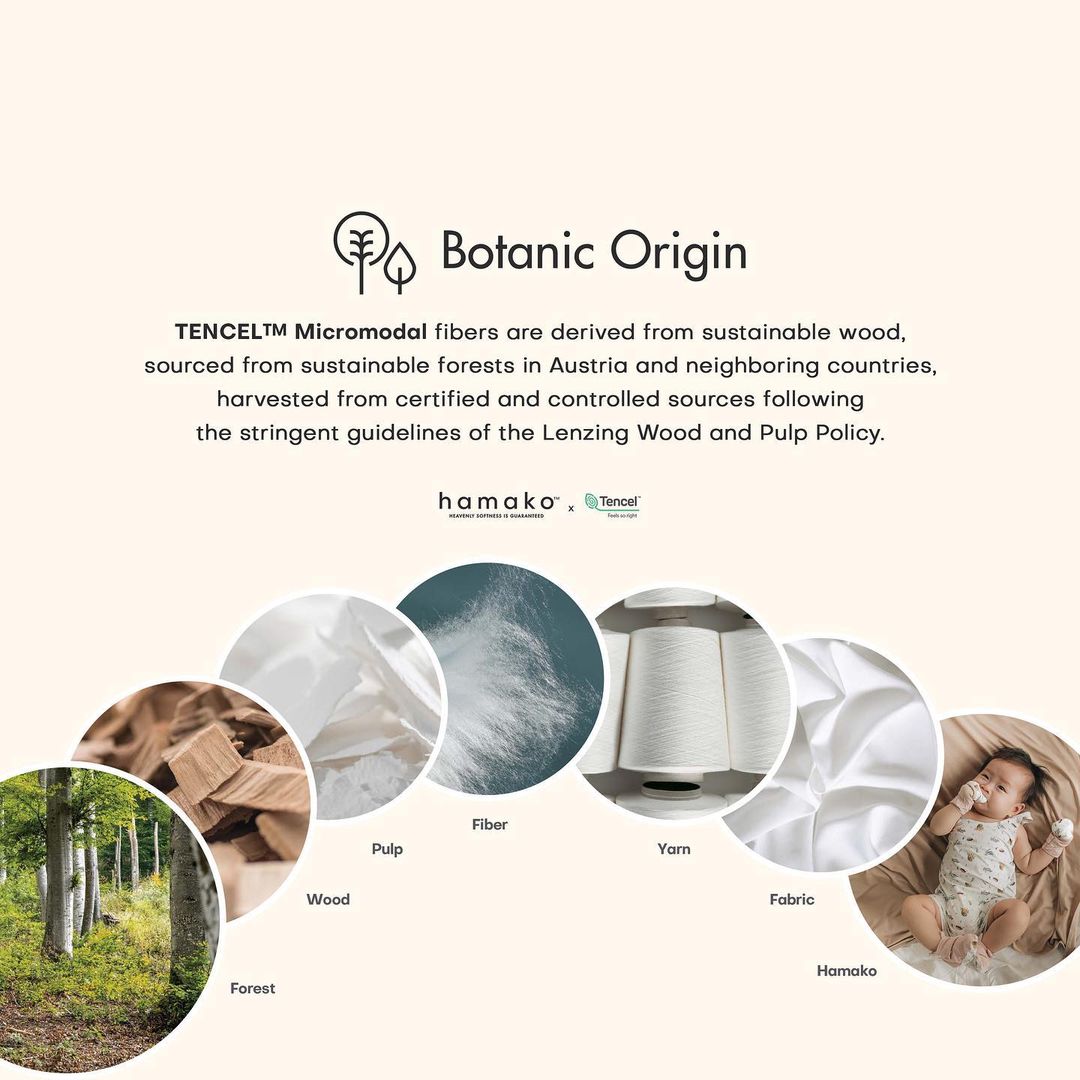 Tencel has been known in bedding but rarely in clothing (occasionally used in luxury brand tees), but almost none in baby clothes.
Baron & Co now brings Hamako Tencel Micromodal into our brands collection as Malaysian sole distributor (reseller enquiries are welcome); Tencel Micromodal from Lenzing Austria is certified by OEKO Tex free from harsh chemicals.
Hamako was started by a group of mothers who struggled to find a brand that could accurately deliver comfort and lifetime design to motherhood.
They tried to find the right material that is sustainable, long lasting and extremely soft beyond standard, without damaging the environment. Combining durable design and material at the same time.
They found Tencel™ Intimate (i.e. micromodal) from Lenzing Austria, which is the highest grade Tencel. Tencel™ Micromodal fabric is derived from renewable Austrian Beechwood sources using sustainable production processes. Clothing that uses tencel material is fully biodegradable as it will melt back to earth after buried under ground for 16weeks.
Tencel fabric is silky soft and cooling; it does not trap heat hence perfect for hot sleepers and those that sweat often. It is a fabric that supports body temperature regulating properties by absorbing and releasing moisture.
Click here
to find out more about the heavenly fabric.
You will understand their tagline "Heavenly Softness is Guaranteed" when you touch Hamako products.
Mommies can now wear some of the apparel to do twinning with the kids or babies. Choose products that has Adults in the product name - size 13Y is equivalent to S-M size and 12Y size is equivalent for XS-S for ladies.
Powered by Froala Editor