FREQUENTLY ASKED QUESTIONS
Q1. What do you mean by Skin-Friendly?
Skin-friendly means the material of the clothings provided by Baron & Co are kind to the skin, safe for sensitive skin as they are made with fabric and materials, that are certified free from harsh chemicals from the fabric to colour dye and to the details of buttons.
Of course, these clothes need to also be washed with eco-friendly and skin-friendly detergent.
Benefits of choosing skin-friendly material for your children:
• Breathable - they don't contain harmful chemicals hence the natural material will allow the fabric to breath and doesn't trap heat. Especially when children are sick or having fever, they will feel more cosy in skin-friendly apparel as the fever heat won't be trapped in their body.
• Hypoallergenic - the naturally grown sources of the fabric and production processes free from harsh chemicals make the apparel hypoallergenic and eczema safe, minimise itchiness and rashes.
• So Soft - They are generally much softer as chemicals add layers on fabric and made them harder in texture. Baron & Co Kids always feedback that our apparel are all "So Soft"
• Eco-friendly - Other than being skin-friendly, generally they are more eco and earth friendly too as chemicals harm our planet. Some fabric such as Tencel is fully biodegradable too.
There are a range of material that can be skin-friendly in this world, there are uncertified and certified ones too.
Baron & Co brings together the best certified ones - Organic Cotton which are the softest and safest breathable Cotton for your babies and kids, Tencel material originated from Austrian beechwood which is newest sustainable material in the global garment industry commonly used in bedding and luxury branded tees as they are luxuriously soft silky, cooling, quick-dry, hypoallergenic and biodegradable, Bamboo material which is sustainable natural material ie. cooling soft to the skin derived from Bamboo plant sources hence hypoallergenic and antibacterial, and last is more affordable Fine Cotton which is combed cotton (much softer than regular cotton as it went through combing process), though not organic but OEKO-Tex certified free from harsh chemicals.
What does it mean by certified skin-friendly?
It means the apparel are certified by world recognised certification body to be skin-friendly and eco friendly, adding assurance that our claims of skin-friendly apparel are tested by independent body.
All our organic cotton range are certified by GOTS which is the highest standard in the world for organic cotton. The other fabric are all certified by OEKO-Tex which is one of the world's best-known labels for textiles tested for harmful substances.
To know more about our GOTS certified Organic Cotton and why, please Click Here
To Learn more about Austrian Tencel Material, please Click Here
To Learn more about Bamboo, please Click Here
To Learn more about Fine Cotton, please Click Here
They are all certified by OEKO-tex and/or GOTS, Click Here to find out more about the certification.
Q2. How to Care for these clothes?
These clothes are made with no harsh chemicals and mostly natural dye hence they are not able to withstand very hard washing and high heat.
Gentle washing and low heat will keep these skin-friendly clothes last a long time.
Please Click Here for detailed Care Guide.
Q3. I have a newborn and a new mommy, do you have any tips or references for me?
Yes we do! Kindly Click Here for Baby and Mommy Guide. If you wish to know about other things, kindly DM us and we will work to include it.
Q4. How long it takes to receive my order?

Please Click Here for shipping policy

Q5. What is the meaning of credit points?
Credit points are earned from the purchases you made under your log-in account and can be accumulated. These points can be used as discounts in your next purchases without any expiry date. You can select to use the credits on the check-out page.
Q 6. How to Place my Order on the website?
Step 1 - Create Account :
Create Your Account to Enjoy Rebates and Vouchers! Log-in first to your account. If you had added items to cart, it is okay; you can still create account and your Cart items are still saved.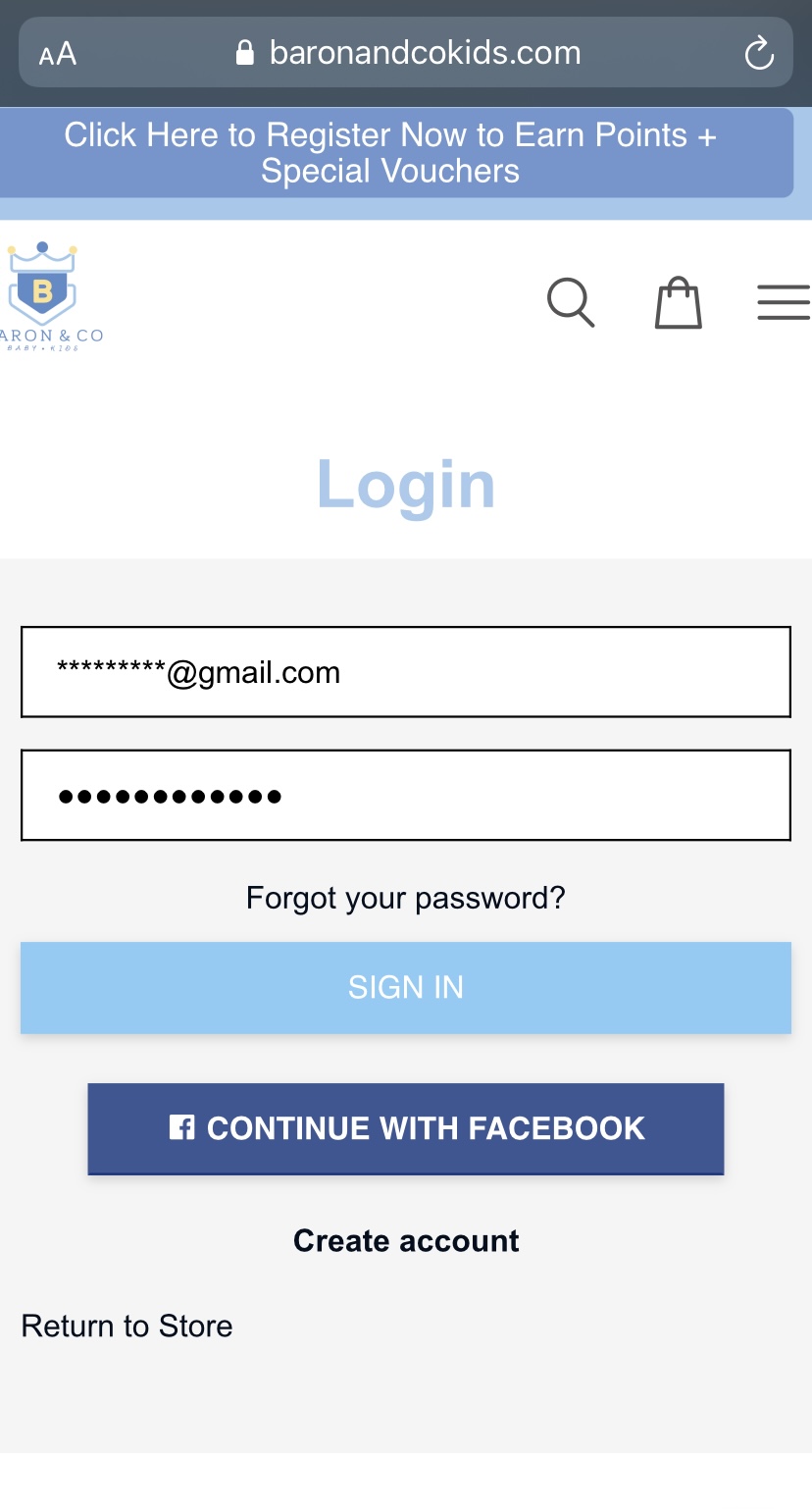 Step 2 - Browse by Categories:
Choose the products you wish to buy, by Collection, By Age, By Gender or By clothes type.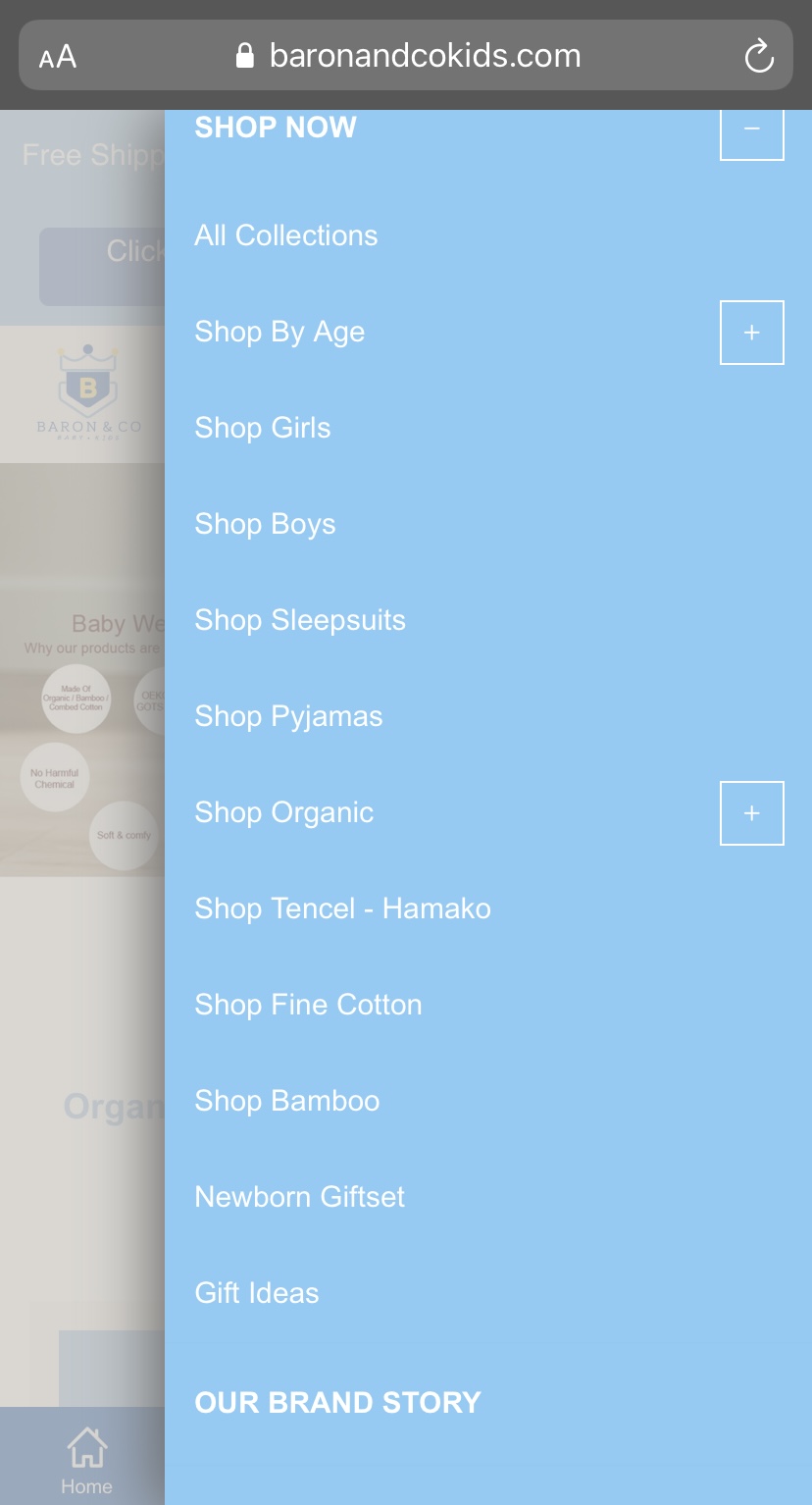 Step 3 - Shopping time:
Choose the products you want to view or add to cart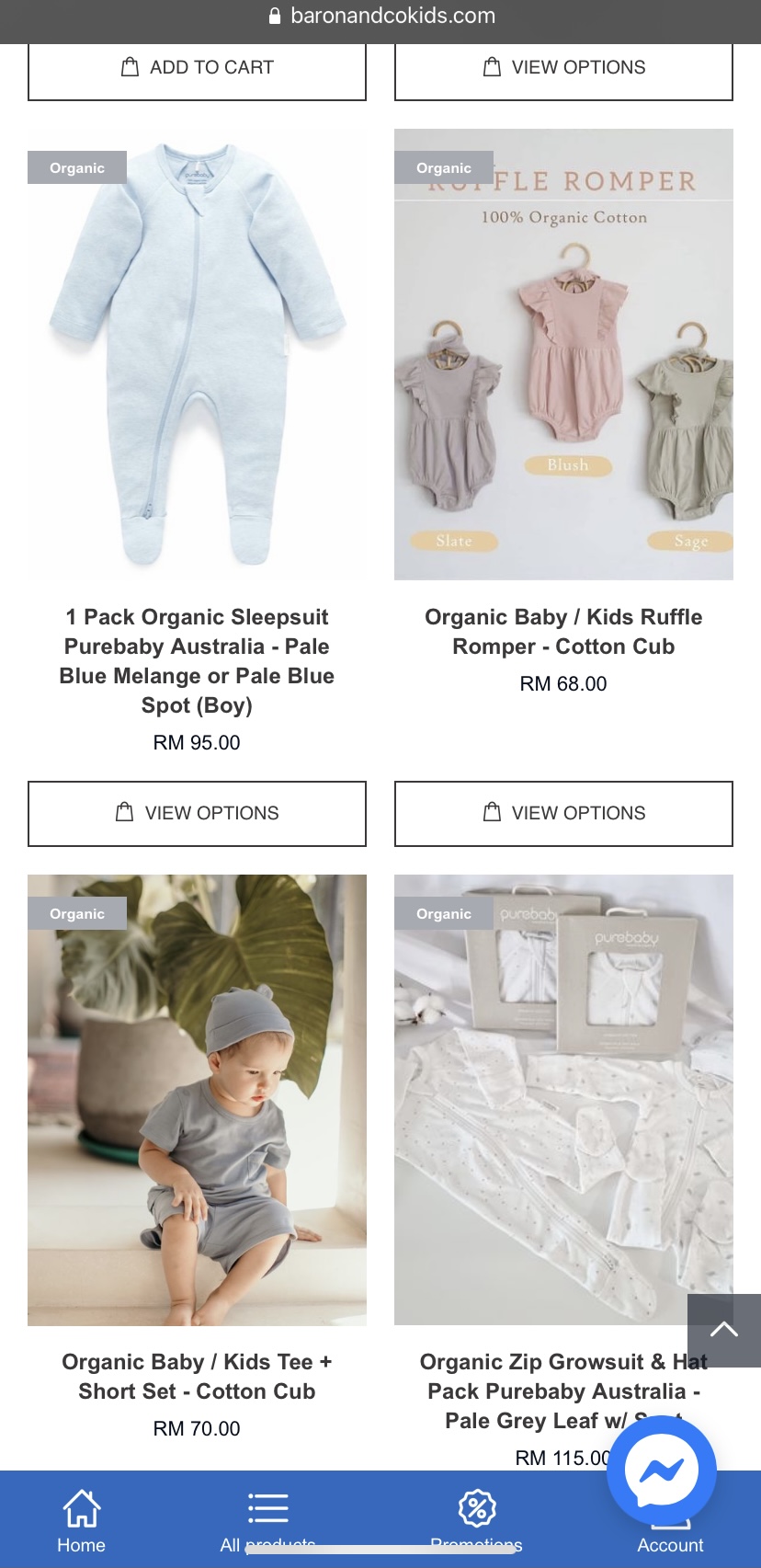 Step 4 - Add to Cart :
Set your colour and size you want then click add to chart bar which is at the bottom of product page.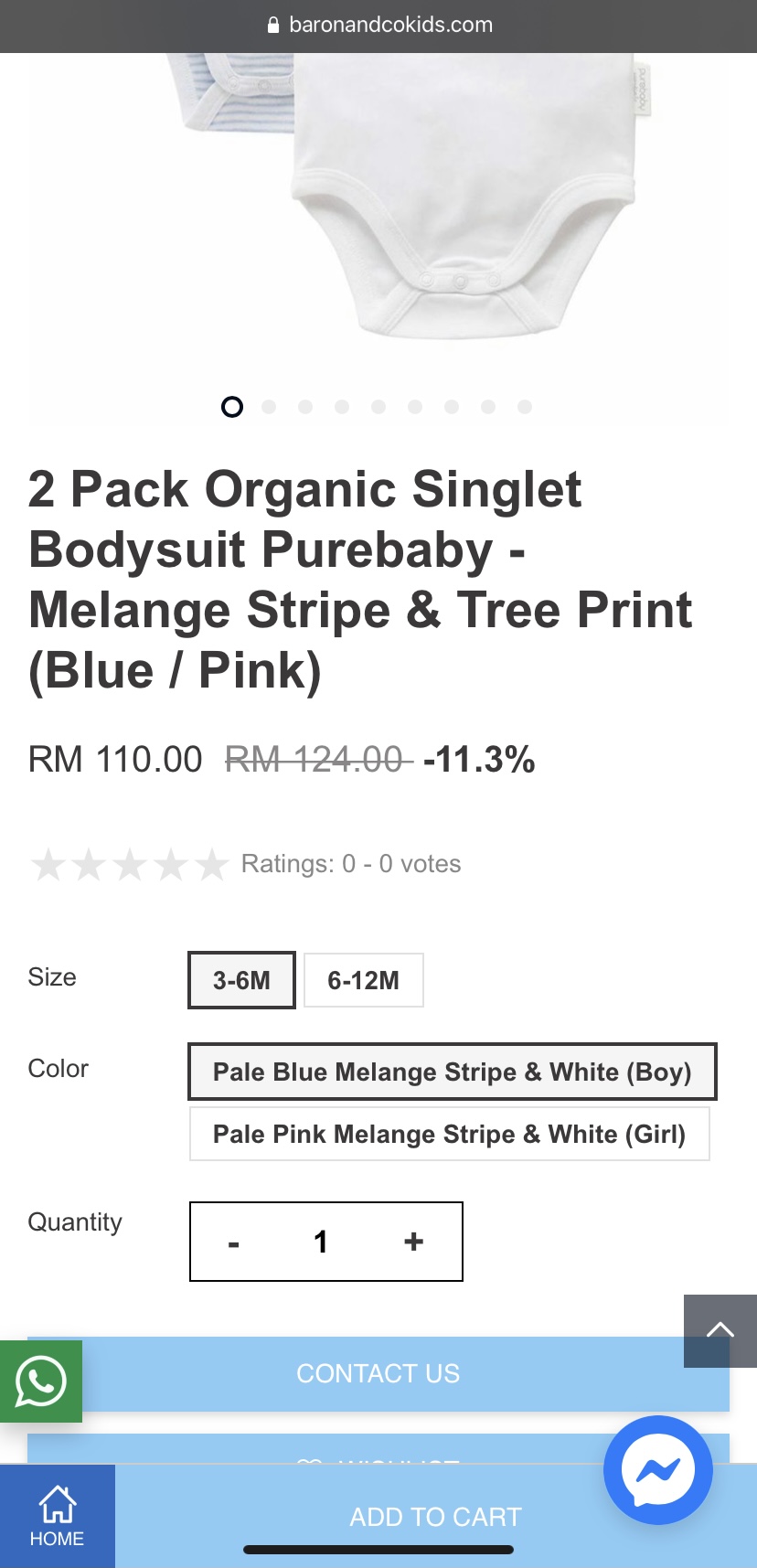 Step 5 - Shopping Cart :
Check your order in shopping cart and input voucher code (if any). Then, click "check-out" bar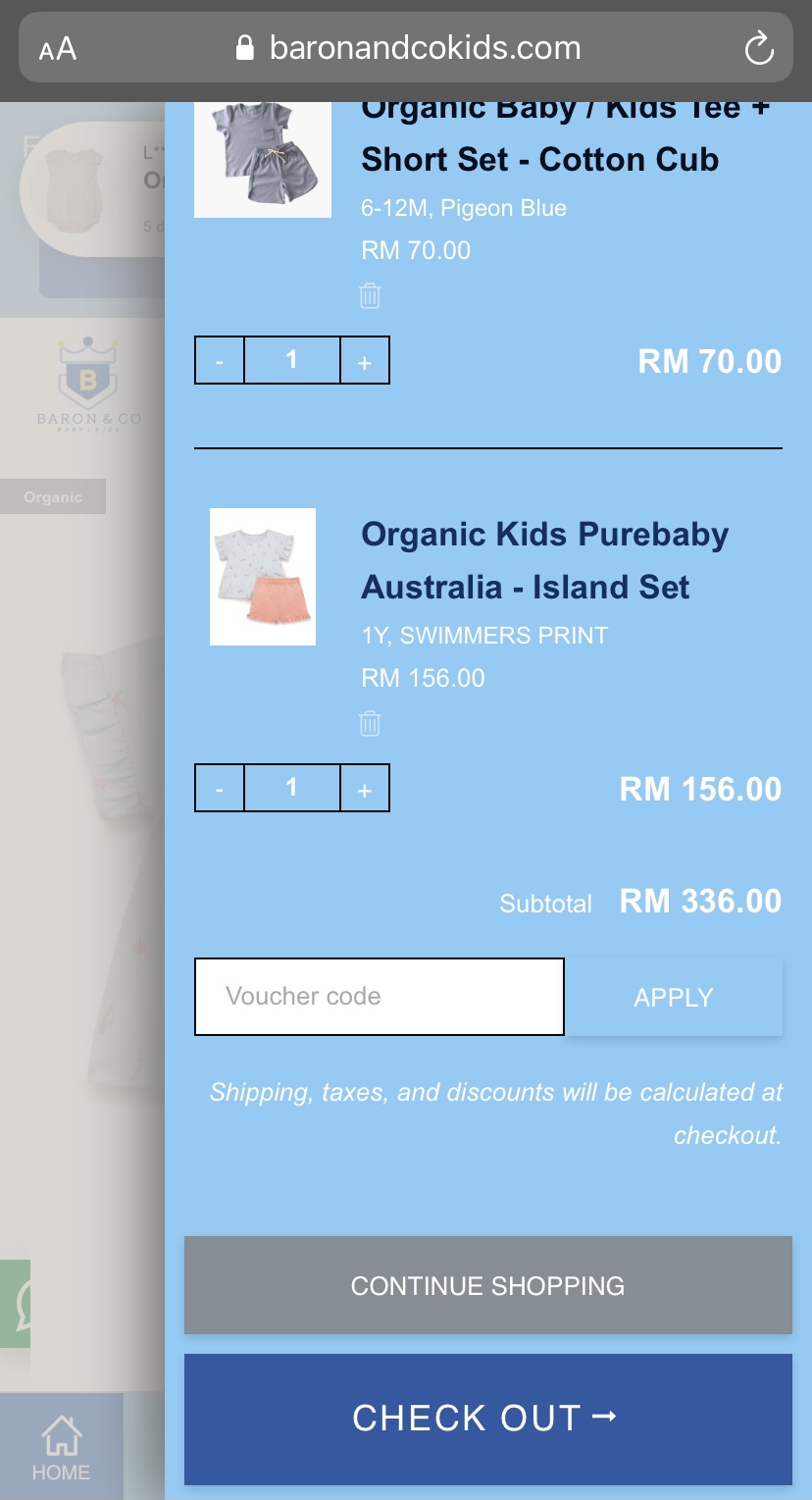 Step 6 - Confirm the Order :
Fill in your address, email and other details and, and choose payment method - Bank Transfer or Credit Card/ FPX.Then, click Place Order Now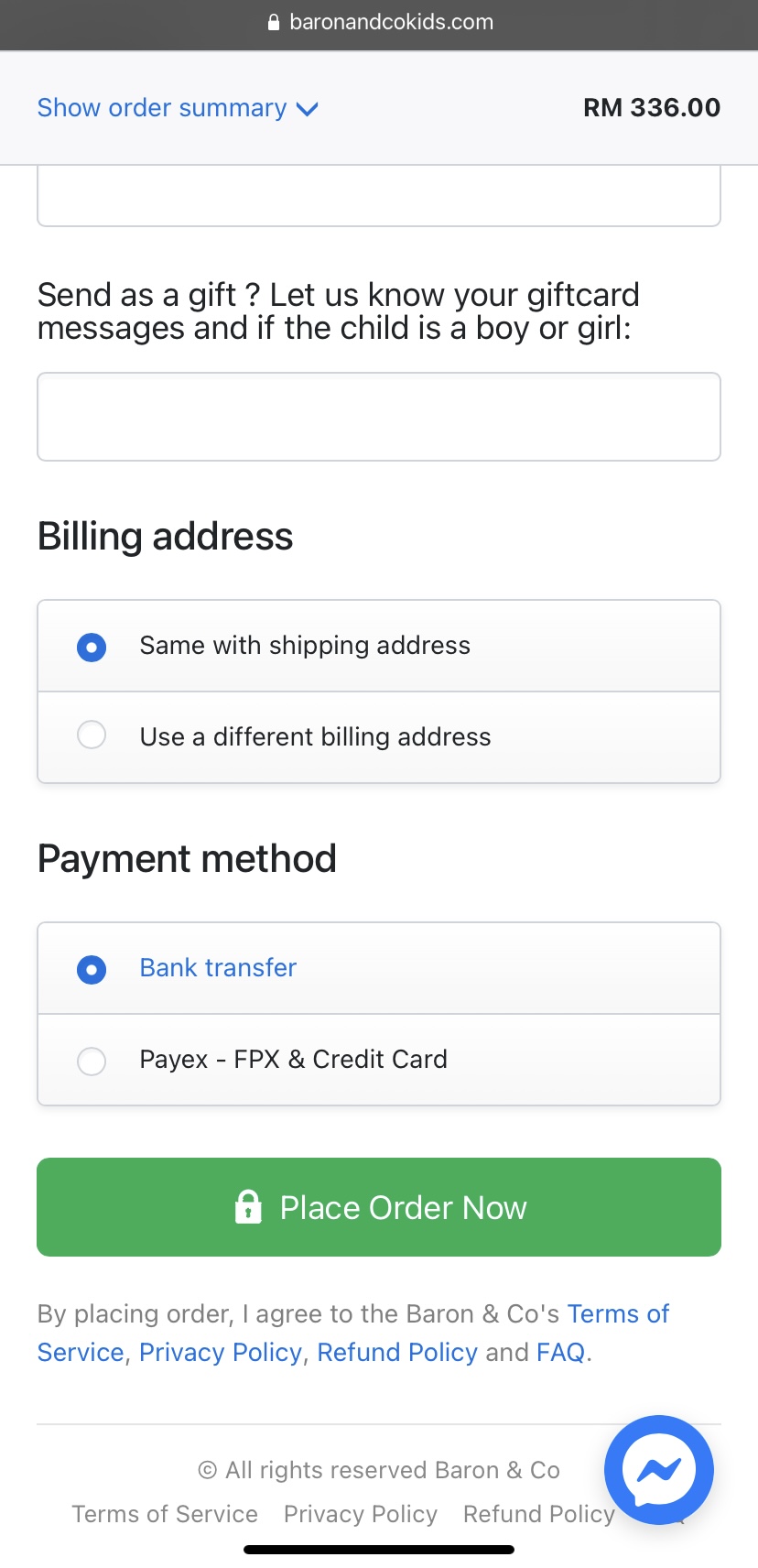 Step 7 - Payment :
For Credit Card, after placing the order, you will be directed to Payex portal for payment.
For Bank Transfer, the bank details information will appear after placing the order. After payment is made, you can upload receipt to verify your purchase.
If you miss the browser to upload or Credit Card link, please DM us on Instagram @baronandco.kids or WhatsApp us at +60 11-3111 9999.