Newborn Baby Clothing Checklist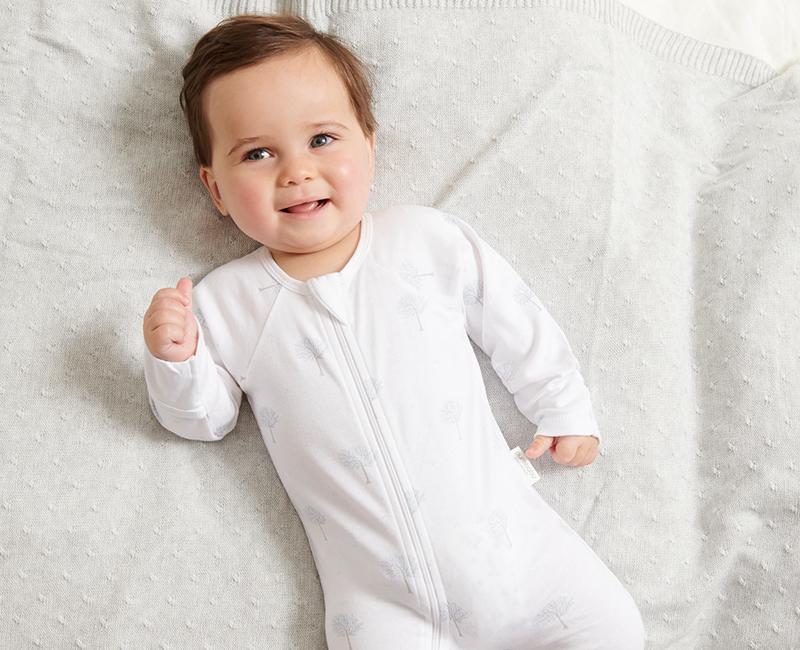 Purchasing items for a newborn can be overwhelming, especially when it comes to clothing with all of the choice and sweet options available.
It's easy to get lost in little onesies, cute prints and tiny trimmings.
A simple checklist of newborn baby essentials is a great way to get you started thinking about what your baby needs. We have created a newborn baby clothing checklist for your little one's first wardrobe, to guide you through the gorgeous world of dressing your baby in the first few months.
Remember to consider the following for your baby's first wardrobe.
Fabrics
Natural fabrics such as organic cotton is best for a newborn's delicate skin, as they are breathable and prevent sweat from collecting on their skin. If we think about baby growsuits and rompers in particular, they cover the whole body, so soft, natural fibres are the gentlest choice.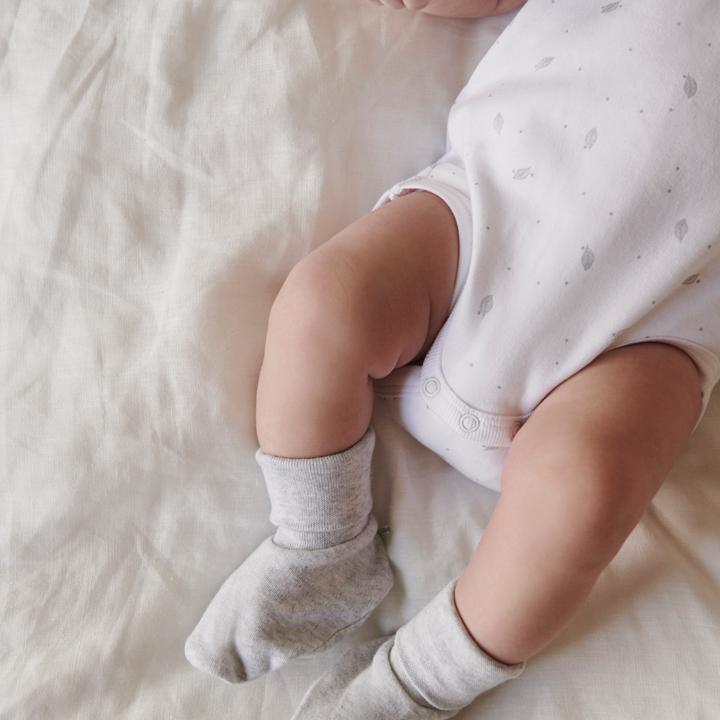 Sizing
The largest proportion of babies are born between 3-4kg, which generally means a size 0000. Often we forget to purchase these smaller sizes for newborns, but a few 0000 onesies and bodysuits will most likely be needed.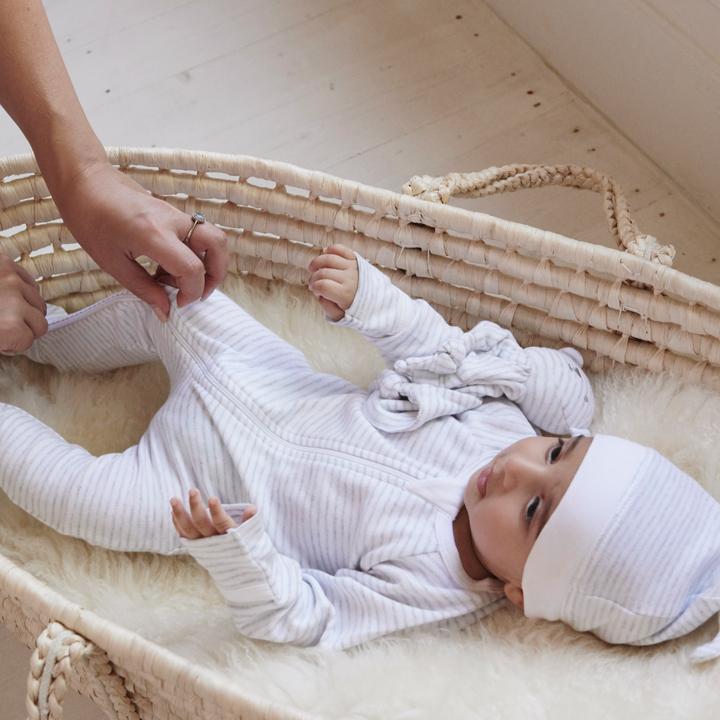 Quality and Longevity
The higher the quality of the baby clothing you purchase, the more likely you are to use it again if you decide to have another little one down the track. Babies grow up fast, so purchase high-quality items in neutral colours to ensure that they can be reused or passed down in future.
First thing's first, collect the basics
Items such as singlets or singlet bodysuits, blankets, muslin wraps and bunny rugs are all newborn baby essentials and should be purchased alongside your wardrobe items.
These are your staple items that will be used every day, so be sure to have a couple of each handy. You may even find that 4-6 singlets or singlet bodysuits are required alongside these pieces.
4-6 Growsuits
Your baby will likely live in growsuits for the first months of their life. Two-way zips on your onesies are a must for easy changing, as are zip protectors. With enclosed feet and fold-over mittens, our growsuits for baby boys and baby girls will keep your baby warm and comfortable.
2 Tops and Jackets
Tops are great paired with leggings, but a little less practical than a growsuit. We recommend two tops for when you want to put your little one in something dressier. Make sure you choose tops that do not have scratchy stitching and tags on the inside, which may irritate their soft skin. It's also practical to have a heavier weight and a lightweight jacket to keep baby snug when you leave the house. We have a range of padded jackets for baby girls and baby boys.
4 Long-sleeved Cardigans
Soft cotton cardigans are an essential layering piece for a newborn. Place over growsuits and long-sleeved tops in the cooler months, or over a singlet or singlet bodysuit on cooler summer days. You may like to select two plain cardigans for at home, and two more dressy cardigans for taking baby out with you.
2 Pairs of Pants or Leggings
To pair with your tops and cardigans, it is a great idea to have some leggings or pants handy to complete a dressier outfit.
3 Hats or Beanies
Hats are an essential item for babies, as they are born with an open fontanelle where heat can easily escape. The hospital will most likely require that you have a hat to take your baby home in. Beanies are a great option for cooler months as they are a little warmer.
3 Pairs of Booties & Mittens
Booties and mittens are great if your growsuit or romper doesn't have enclosed feet or built in mittens. Covering little hands and feet will keep your baby warm, while also preventing any scratching.
Other items to consider
We recommend the following accessories for your little one to purchase alongside your newborn baby clothing checklist items.
2 x Hooded Towels
3 x Bibs
1 x Soft Hairbrush
Lastly, make sure you enjoy the process of collecting lovely little items for your newborn. The lead up to birth is a very special time and collecting the perfect pieces is all part of it.
Be sure to share this checklist with family and friends who may not know what clothes to buy for a newborn.
To aid you even further in preparing for your newborn's arrival, we have created a hospital checklist, to assist in packing your hospital bag.
Shop our full range of newborn Baby essentials at Baron & Co now.